KUALA LUMPUR (Bernama) — Farhan (bukan nama sebenar) dihantar ke sebuah hospital swasta bagi mendapatkan rawatan untuk jangkitan kuman pada kaki kanannya.
Sepatutnya, ubat-ubatan dan penjagaan sudah memadai untuk menyembuhkan seorang kanak-kanak sihat yang berusia 12 tahun.
Bagaimanapun, Farhan bukanlah kanak-kanak yang sihat kerana berat badannya ketika itu melebihi 100 kilogram (kg).
Susulan daripada itu, Farhan dirujuk kepada hospital kerajaan bagi merawat komplikasi akibat berat badannya yang berlebihan itu.
Namun, hayatnya tidak lama apabila meninggal dunia pada usia 12 tahun akibat keadaan jantungnya yang lemah.
OBESITI KANAK-KANAK DAN IBU BAPA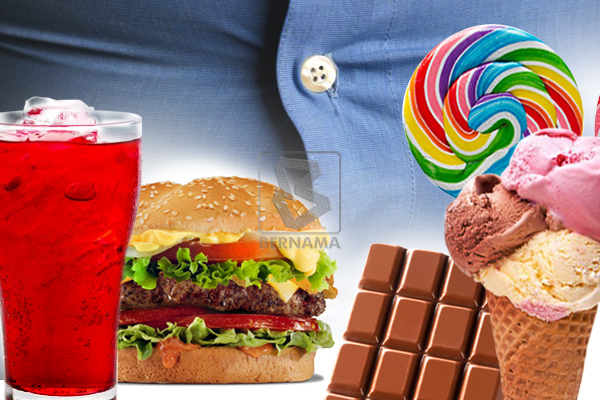 Pemakanan yang tidak seimbang boleh menyebabkan kegemukan atau obesiti.
Pertubuhan Kesihatan Dunia (WHO) mendapati obesiti kanak-kanak meningkat pada kadar yang sangat membimbangkan apabila rekod menunjukkan jumlah kanak-kanak yang mempunyai berat badan berlebihan di bawah usia lima tahun adalah melebihi 41 juta orang pada 2016.
Kajian yang diterbitkan dalam International Journal of Environmental Research and Public Health pada 2010 menyatakan bahawa penyebab tidak dapat diubah bagi obesiti adalah genetik dengan kanak-kanak yang mempunyai ibu bapa yang obes dan gemuk berisiko besar untuk turut berkeadaan sama.
Perunding Kanan Pediatrik dan Endokronologi Pusat Pakar UM (UMSC) Profesor Madya Dr Muhammad Yazid Jalaludin berkata kanak-kanak yang mempunyai ibu atau bapa yang gemuk berdepan empat atau lima kali ganda risiko untuk membesar menjadi dewasa yang obes.
"Jika ibu atau bapa gemuk, kanak-kanak itu berisiko menjadi obes adalah empat atau lima kali ganda. Keadaan menjadi lebih buruk apabila kedua-dua ibu dan bapa gemuk dengan risikonya adalah 13 kali ganda," katanya dalam satu temu bual baru-baru ini.
Kaji Selidik Kesihatan dan Morbiditi Kebangsaan (NHMS) menunjukkan dalam negara-negara Asia Tenggara, Malaysia berada antara tempat teratas dengan populasi orang dewasa mengalami obesiti adalah sebanyak 44.2 peratus.
Angka itu meningkat kepada 47.3 peratus pada 2015.
Berdasarkan angka tersebut, wanita dewasa dalam lingkungan umur boleh hamil iaitu 30 hingga 35 tahun akan mengalami kegemukan (34.2 peratus) dan obes (30.4 peratus).
Ini merupakan trend yang amat membimbangkan, dan ia membangkitkan kerisauan kerana mereka juga adalah ibu bapa kepada anak-anak yang sedang membesar atau bakal menimang cahaya mata.
OBESITI KANAK-KANAK
Kaji Selidik Nutrisi Asia Tenggara pada 2013 menyatakan bahawa 21.6 peratus kanak-kanak dalam lingkungan umur enam bulan hingga 12 tahun berada dalam kategori gemuk atau obes.
Menurut satu lagi kajian mengenai kanak-kanak dan remaja di Asia pada 2013, Malaysia adalah antara tiga negara yang mempunyai kanak-kanak obes (berusia enam bulan hingga 12 tahun) iaitu sebanyak 11.5 peratus.
Kajian NHMS pada 2015 mendapati sebanyak 11.8 peratus kanak-kanak berusia bawah 18 tahun mengalami obesiti.
"Berdasarkan data ini, seramai 1.65 juta kanak-kanak Malaysia yang bersekolah dijangka mengalami obesiti menjelang 2025 sekiranya kita tidak mengambil sebarang tindakan," kata Dr Muhammad Yazid.
Daripada jumlah itu, seramai 88,000 kanak-kanak Malaysia akan mengalami masalah dalam toleransi glukos, seramai 28,000 orang akan menghidap diabetes Jenis 2, seramai 191,000 kanak-kanak bakal mengalami tekanan darah tinggi dan 264,000 akan menghidap penyakit hati berlemak tahap satu.
Indeks Jisim Tubuh (BMI) digunakan bagi mengukur berat badan kanak-kanak dan dewasa.
Carta BMI WHO menunjukkan kanak-kanak dan remaja gemuk, yang sama usia dan jantina, mempunyai BMI pada atau melebihi 85 persentil dan di bawah 95 persentil manakala mereka yang obes pula mempunyai BMI pada atau melebihi 95 persentil.
Dr Muhammad Yazid berkata obesiti dalam kalangan kanak-kanak juga boleh ditentukan melalui ukur lilit pinggang mereka.
"Kajian ke atas kanak-kanak Malaysia pada 2011 mendapati kanak-kanak lelaki gemuk dari usia tujuh tahun mempunyai ukur lilit pinggang pada kadar 90 persentil, yang lebih besar berbanding kanak-kanak sebaya dan sama jantina di United Kingdom, Hong Kong, Turki dan Australia," katanya.
Kajian itu dijalankan ke atas 18,000 kanak-kanak berusia enam hingga 18 tahun di Malaysia.
OBESITI ADALAH PENYAKIT
Dr Muhammad Yazid, yang memetik Kaji Selidik Nutrisi Asia Tenggara yang terbaharu untuk kanak-kanak berusia enam bulan sehingga 12 tahun, berkata sebanyak 21 peratus daripada mereka dikategorikan sebagai gemuk atau obes dengan jumlah kanak-kanak lelaki mencatatkan kadar lebih tinggi berbanding kanak-kanak perempuan.
"Kaji selidik MyBreakfast pula mendapati di Malaysia, lebih ramai kanak-kanak Cina yang gemuk dan obes berbanding kanak-kanak Melayu dan India," katanya.
Di Amerika Syarikat, kanak-kanak gemuk adalah dari golongan sosioekonomi bawahan memandangkan ibu bapa mereka tidak mampu membeli makanan yang berkhasiat dan berkalori rendah.
Namun, di negara-negara membangun seperti Malaysia, kanak-kanak gemuk adalah dalam kalangan keluarga kaya dan miskin.
"Keluarga yang miskin tidak mempunyai wang mencukupi…oleh itu, mereka makan makanan yang tidak berkhasiat dan tinggi kalori yang biasanya berharga murah. Keluarga kaya pula mampu membeli makanan yang baik namun mereka membuat pilihan yang salah dalam pembelian jenis makanan," jelasnya.
Keadaan itu menyebabkan peningkatan kegemukan dalam kalangan kanak-kanak sebanyak dua kali ganda iaitu 5.8 peratus kanak-kanak obes pada 2011 meningkat kepada hampir 12 peratus pada 2015.
"Berdasarkan statistik dan keadaan kesihatan, obesiti dalam kalangan kanak-kanak merupakan satu penyakit dan bukannya keadaan seperti yang dilabelkan sebelum ini," tegas Dr Muhammad Yazid.
IMPLIKASI OBESITI KANAK-KANAK
WHO menyatakan obesiti dalam kalangan kanak-kanak dikaitkan dengan risiko kematian semasa muda dan ketidakupayaan semasa dewasa.
Kanak-kanak yang gemuk dan obes juga berisiko tinggi untuk menghidap penyakit tidak berjangkit seperti diabetes dan kardiovaskular.
Dr Muhammad Yazid berkata peningkatan obesiti dalam kalangan kanak-kanak Malaysia sangat merunsingkan kerana kanak-kanak yang obes adalah berisiko tinggi untuk membesar menjadi dewasa yang obes.
"Mereka lebih mudah menghidap diabetes Jenis 2, tekanan darah tinggi dan penyakit hati serta mengalami masalah kolesterol yang akan menyebabkan penyakit-penyakit kardiovaskular, tekanan darah tinggi serta rintangan insulin," katanya Sindrom rintangan insulin merupakan kumpulan faktor risiko untuk penyakit diabetes mellitus Jenis 2 dan penyakit kardiovaskular.
"Saya mengendalikan klinik obesiti pediatrik sejak 2006 dan sepanjang 13 tahun itu, saya mendapati kanak-kanak menghidap diabetes Jenis 2 pada usia seawal 12 tahun," kata Dr Muhammad Yazid.
Beliau turut berkongsi kisah seorang kanak-kanak obes berusia tujuh tahun yang dimasukkan ke hospital akibat denggi.
Berikutan berat badannya berlebihan, kanak-kanak itu dihantar ke klinik obesiti dan dijadualkan bertemu dengan pakar pemakanan, pakar perubatan sukan dan pakar mengenai tidur namun, selepas beberapa sesi lawatan di klinik, dia tidak lagi ke klinik berkenaan.
Enam tahun kemudian, dia kembali ke klinik tetapi didapati menghidap diabetes Jenis 2.
Dr Muhammad Yazid berkata beliau mendapati sejak lima tahun lalu, lapan daripada 10 kanak-kanak menghidap diabetes Jenis 1 dan bakinya Jenis 2.
"Ini berlaku kerana mereka obes super… kami pernah merawat kanak-kanak berusia tujuh tahun yang seberat 70 kg dan remaja berusia 12 tahun yang seberat 100 kg. Mereka dirujuk kepada kami kerana masalah lain seperti lelah atau demam denggi namun hasil penurunan berat badan tidak berapa bagus.
"Ada juga kanak-kanak yang berjaya mengurangkan berat badan dengan inisiatif oleh ibu bapa mereka sendiri,"katanya.
MASALAH TIDUR
Selain penyakit-penyakit serius, obesiti juga merupakan penyebab gangguan tidur serius atau 'obstructive sleep apnea' (OSA) dan sindrom hipoventilasi dalam kalangan kanak-kanak.
Kajian obesiti dalam kalangan kanak-kanak dan OSA yang diterbitkan dalam Journal of Nutrition and Metabolism 2012 mendapati 60 peratus kanak-kanak obes mengalami OSA.
OSA boleh dikenal pasti melalui bunyi dengkur dan halangan (separuh atau sepenuhnya) yang berulang kali berlaku di bahagian atas salur udara seseorang.
"Dalam kalangan kanak-kanak obes, salur udara menjadi sempit disebabkan jumlah lemak yang banyak pada bahagian leher. Ini menyebabkan penurunan dalam pernafasan dan mengganggu tidur.
"Apabila mempunyai terlalu banyak lemak di sekitar abdomen dan dada, pernafasan menjadi sukar dan berlakunya hipoventilasi," kata Pakar Pernafasan Pediatrik dan Perubatan Tidur UMSC Dr Eg Kah Peng.
Menurutnya masalah pernafasan itu membawa paras oksigen yang sedikit dan karbon dioksida yang banyak dalam darah kanak-kanak semasa tidur, yang kelak memberikan kesan tidak baik kepada kesihatan dan kualiti kehidupan mereka.
Anak yang mengalami masalah tidur akan berdengkur kuat dan sukar bangun dari tidur selain sering sakit kepala dan mengantuk pada waktu siang.
"Ada yang boleh tertidur dengan mudah ketika sedang duduk pada waktu siang jika masalah tidur mereka amat teruk," kata Dr Eg.
Menurut beliau kekurangan oksigen dalam darah untuk jangka masa yang panjang boleh mengakibatkan kegagalan jantung dan kemerosotan awal ingatan.
Beberapa kajian dalam kalangan orang dewasa yang mengalami OSA menunjukkan mereka berisiko tinggi untuk menghidap penyakit Alzheimer.
Dr Eg berkata ada ubat-ubatan dan peralatan bagi merawat dan melegakan simptom OSA dan hipoventilasi, bagi memperbaiki kualiti tidur dan mengurangkan komplikasi.
"Namun, langkah yang paling penting adalah merawat punca kepada masalah itu dengan pesakit perlu mengurangkan berat badan jika tidak mahu bergantung kepada ubat-ubatan dan peralatan itu selama-lamanya," kata beliau.
Beliau turut berkongsi kes seorang kanak-kanak lelaki obes yang meninggal dunia semasa tidur. Kanak-kanak itu didiagnos mengalami OSA yang sangat teruk dan dinasihatkan supaya mendapatkan rawatan namun, ibu bapanya tidak bersungguh-sungguh dalam proses rawatan itu dengan tidak menghadiri sesi lawatan susulan.
"Ibu bapanya tidak mahu mencuba dan memberikan alasan yang anak mereka tidak mahu mendapatkan rawatan, ditambah dengan kesukaran mereka ke hospital bagi mendapatkan rawatan susulan. Malang sekali, apabila anak mereka dihantar ke hospital akibat keadaan kritikal, dia tidak dapat diselamatkan," katanya.
MENDIDIK IBU BAPA
Ibu bapa dan penjaga perlu memainkan peranan aktif dalam usaha mengawal obesiti anak-anak sebagai langkah pencegahan dan pengurusan, kata Ketua Perkhidmatan Dietetik dan Pakar Dietetik Klinik, Rozanna M.Rosly.
Beliau berkata mereka perlu diberikan kesedaran tentang kepentingan diet seimbang selaras dengan usia dan jantina serta nutrisi penting bagi merangsang tumbesaran yang optimum dan aktiviti fizikal untuk anak-anak mereka.
"Ibu bapa selalu berkata bahawa anak mereka 'aktif' dan soalan saya selalunya 'berapa lama dan berapa kerap serta apakah senaman aktif yang anak lakukan'" katanya.
Menurutnya dalam hal ini, anak yang aktif belum memadai kerana ibu bapa perlu menumpukan perhatian kepada kalori, lemak, protin dan nutrisi penting lain yang perlu diambil anak-anak sesuai dengan usia dan jantina mereka.
"Pada masa sama, anak-anak juga perlu menyumbang kepada usaha ini," tegasnya.
Anak-anak perlu dididik untuk mengenali makanan yang perlu mereka makan dalam hidangan utama dan snek selain perlu diberitahu bahawa mereka tidak memerlukan kalori atau bahagian tambahan semasa makan.
Rozana mencadangkan penggunaan pinggan 'suku-suku separuh' bagi mendidik anak-anak mengenali bahagian makanan yang boleh diambil semasa hidangan utama dan cawan ukuran untuk snek dan minuman.
Panduan dan pendidikan seperti itu sepatutnya bermula di rumah khususnya semasa di meja makan.
"Ibu bapa perlu berusaha untuk makan bersama anak-anak bukannya berasingan. Apabila kita mahu anak-anak makan sayur-sayuran atau buah-buahan, ibu bapa perlulah menunjukkan teladan dengan memakan sayur-sayuran dan buah-buahan juga," katanya.
Selain itu, ibu bapa boleh mendidik anak-anak tentang kepentingan memakan pelbagai jenis makanan dan beraneka bahan masakan dengan membawa mereka ke pasar atau pasar raya untuk membeli-belah.
"Anak tidak tahu bahawa makanan diproses atau makanan sejuk beku tidak mempunyai khasiat yang sama dengan makanan sebenar. Jadi, ibu bapa perlu mendidik anak-anak tentang kesan terhadap kesihatan jika makanan terproses itu dimakan setiap hari.
"Tarik perhatian mereka dengan warna-warna makanan sebenar seperti betik, oren, epal, lobak merah, tomato dan didik mereka tentang nutrisi dan khasiat kesihatan akan makanan-makanan ini," katanya.
Bagi mendapatkan maklumat lanjut atau tip tentang diet serta idea resipi untuk kanak-kanak selaras dengan usia mereka termasuklah keperluan kalori, protin dan nutrisi penting yang lain, ibu bapa boleh merujuk ke laman sesawang Malaysian Dietitians' Association dan Nutrition Society of Malaysia https://www.dietitians.org.my/, http://www.mynutribaby.org.my/ and http://www.nutriweb.org.my/.
Disunting oleh Nur-ul Afida Kamaludin
BERNAMA